Build and enhance your network to the crypto community.
Thank you for attending CAC23B. Stay tuned for updates on CAC24A in April 2024!
Discover recent developments: Blockchain, crypto assets, DeFi and funds.
Thank you for attending CAC23B. Stay tuned for updates on CAC24A in April 2024!
Connecting the traditional finance industry with technology experts of the crypto scene at the best blockchain conference in Germany.
Thank you for attending CAC23B. Stay tuned for updates on CAC24A in April 2024!
CAC23B SPEAKERS AND SPONSORS
In the dynamic landscape of digital currencies, where Bitcoin and Ethereum challenge traditional monetary constructs and the integration of DeFi into mainstream banking becomes an inescapable reality, we're witnessing the transformation of the digital assets realm in ways never seen before. With the power of Web3 poised to reshape societal engagements and tokenization, redefining our perception of ownership, the applications of blockchain technology are broader and more varied than ever. More and more, incumbent industries are adapting to these developments, making a future devoid of digital assets an unimaginable concept.

To bring together sector specialists, corporate visionaries, and innovative entrepreneurs, the Crypto Assets Conference 2023 (#CAC23B) in Frankfurt once again occurred from October 17-18, 2023, where it explored the most current trends in DLT, blockchain, and crypto assets. Be part of an exclusive gathering with 450 on-site and more than 4,000 online participants at one of Europe's premier digital assets conferences, where the latest innovations and emerging industry trends have been examined through insightful talks, interactive debates, and presentations by industry thought leaders.
Day 1 (Tue., October 17, 2023): Digital Securities, Tokenization of Assets, Digital Funds, Infrastructure, Custody, Digital Finance

Day 2 (Wed., October 18, 2023): Bitcoin, ETPs, ETFs, DeFi, Web3, Carbon Tokenization (CO2), ESG
As a hybrid event, all #CAC23B sessions have been live-streamed for our online participants, with on-site attendees having the opportunity to network with our wide range of partners, experts, and fellow attendees. Check out the recordings and listen to our panel discussions, presentations and more!
October 17th, 2023
Day 1: Digital Assets
Digital Securities, Tokenization, Digital Funds,
Digital Finance, Infrastructure, Custody
Digital Assets:
The world of digital assets and its potential in present and future
---
Digital Securities:
Digital bonds, digital funds, digital shares, DLT Pilot Regime, eWpG
---
Tokenization of Assets:


MiCA regulation, real estate, music rights, luxury goods, vintage cars
---
Infrastructure:
Secure IT, custody services, service providers
October 18th, 2023
Day 2: Crypto Assets & Web3
Bitcoin, ETPs, ETFs, DeFi, Web3,
Carbon Tokenization (CO2), ESG
Bitcoin:
Potential for an asset as scarce as gold
---
Securitized Tokens:
Bitcoin ETFs, token certificates, crypto indices
---
Ethereum, Stablecoins,
Smart Contract Platforms, DeFi:
The emergence of a new financial infrastructure
---
Web3, Metaverse, NFTs, Carbon Tokens:
The disruptive potential of the decentralized world; Emergence of virtual worlds in the Metaverse
BRINGING TOGETHER EXPERTS FROM THE CRYPTO AND FINANCIAL WORLD TO ANSWER YOUR QUESTIONS
Bitcoin, Ethereum and other crypto assets
What is the state of worldwide adoption of Bitcoin and Ethereum? Will the Bitcoin and Ethereum predominance prevail? What about next-gen developments such as Ethereum scalability solutions, or Lightning and Taproot for Bitcoin?
Decentralized finance (DeFi)
What will be DeFi's impact on traditional capital markets? Which protocols should be regarded? Do we witness the emergence of the future capital market? How can it be regulated?
Tokenization of assets
How can real assets be tokenized? How can securities, equity, debt and other assets be plugged into tokens? What developments have occurred concerning primary markets and secondary markets?
Investors and venture capital
What technical domains and business models are VCs focusing on? Are tokens an alternative to traditional VC investments?
Digital securities
How does a future dematerialization of securities affect the capital market? Is blockchain technology the appropriate technical basis for the realization of digital securities?
Stablecoins and digital euro
What are use cases for stablecoins? Which stablecoins projects exist besides Circle and Tether? What are the implications of a digital euro for the German and European economy? How could an implementation of a programmable, digital euro look like?
Regulatory developments
What are implications for MiCA, eWPG, etc.? Will the developments in the crypto market be accelerated or slowed down by the current regulatory impulses? What appropriate laws and safeguards must be implemented?
Custody of digital assets
How should digital assets be custodied in the best possible way? Which crypto custody service providers do exist? How do traditional financial institutions view the advance of crypto custody regulation and what does this mean for the adoption of crypto assets?
NFT and the Metaverse
Which use cases for NFTs are sustainable? When will the Metaverse emerge and how will it be used? How will digital identities be managed in virtual worlds?
CO2 offsetting
How can blockchain technology help with offsetting of carbon emissions? Which approaches exist to tokenize CO2? What platforms exist to issue CO2 tokens and trade them?
ESG and sustainability
Which use cases exist for ESG and sustainability? To improve financial inclusion, how can crypto assets and smart contract platforms such as Ethereum be leveraged? How can education in the crypto domain be improved?
Our Media & Network Partner
Improved On-Site Networking at CAC
On-site participants are granted access to our #CAC23B event app, combining virtual networking with on-site match-making possibilities to connect sponsors and fellow attendees.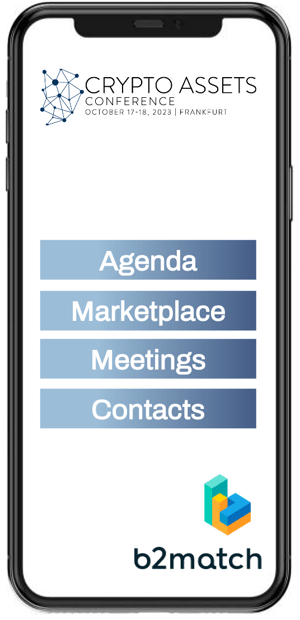 Networking, Matchmaking and Engagement
Search through all #CAC23B individual attendees, speakers, partners and attending companies and request meetings with the integrated calendar and messaging possibilities.
Networking, Matchmaking and Engagement
Marketplace
Find our sponsors products, services and job descriptions on the exclusive Marketplace and enhance your career and business with the endless opportunities provided by our #CAC23B sponsors.
Marketplace
Stay in touch!
Our event app offers the opportunity for attendees to stay in touch with sponsors, partners, speakers and industry experts, to build long-lasting contacts.
Stay in touch!
IMPRESSIONS FROM THE LAST YEARS
Crypto Assets Conference - Aftermovie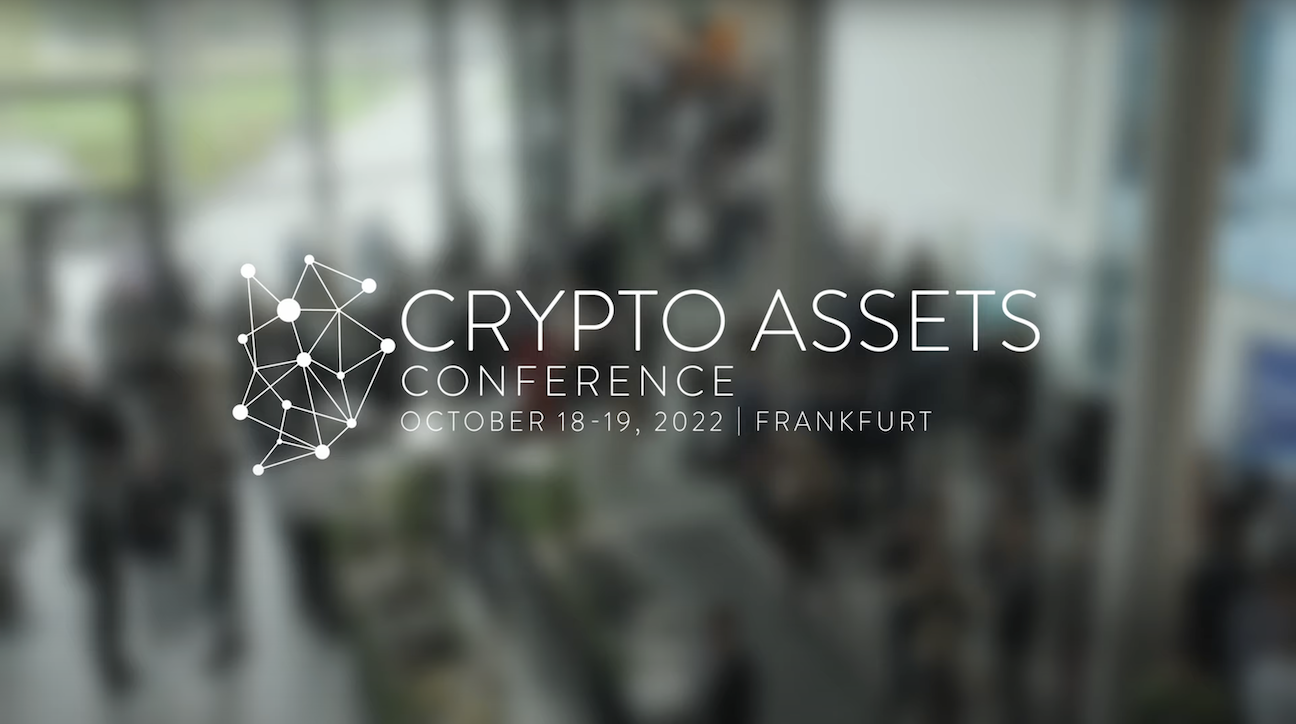 Crypto Assets Conference - Aftermovie
Enjoy some impressions of CAC22B in our official aftermovie
Panel Discussion - CAC23A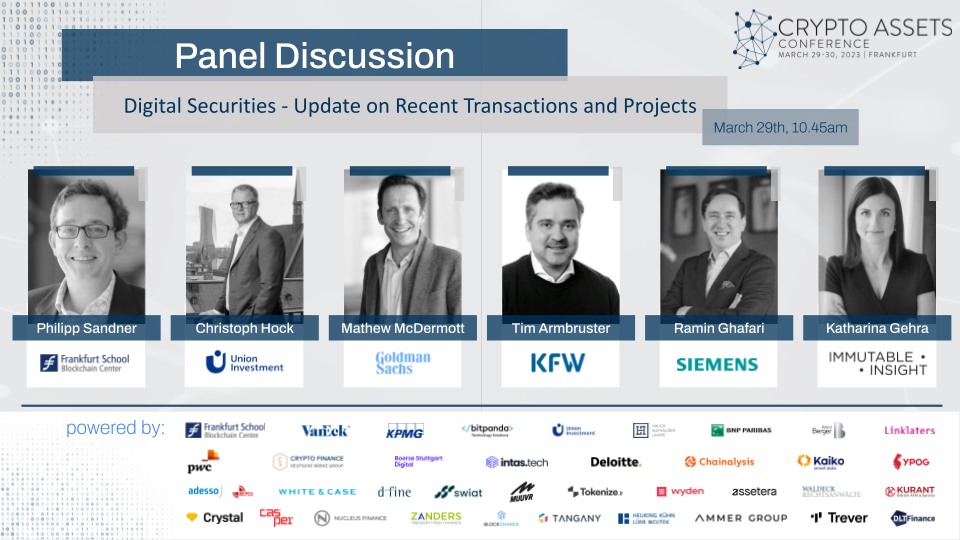 Panel Discussion - CAC23A
​Digital Securities: Recent Transactions and Projects
Trailer CAC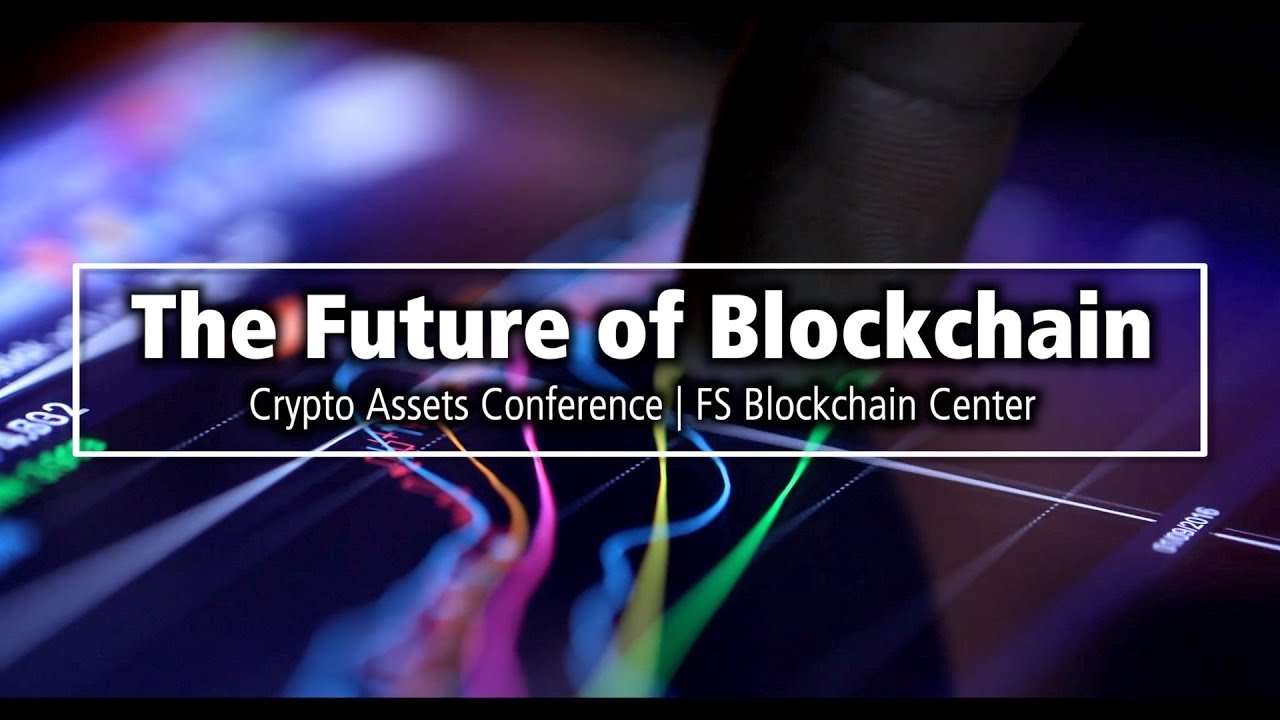 The Future of Blockchain - Crypto Asset Conference
On-site Presentation - CAC23A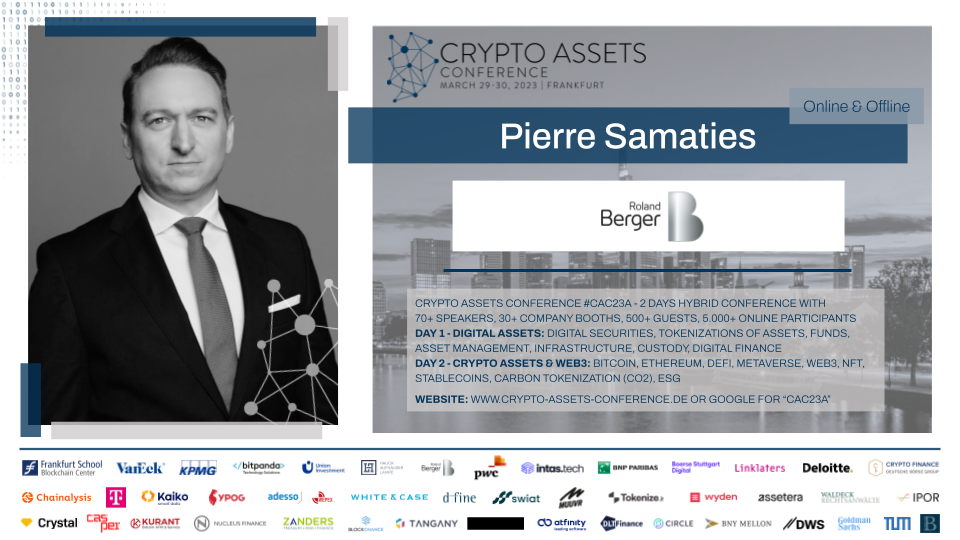 On-site Presentation - CAC23A
Digital Assets and Web3 Adoption: What Happens in the Board Rooms?
(Pierre Samaties - Roldand Berger)
DATE & VENUE
Frankfurt School Blockchain Center organizes the "Crypto Assets Conference" (CAC23B), held on the Frankfurt School campus on October 17-18, 2023.
Frankfurt School of Finance & Management
Adickesallee 32-34
60322 Frankfurt am Main
Germany